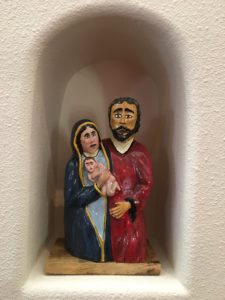 This coming Sunday, July 26 we will bid farewell to our Erica who departs that week for the first of her three years at the Episcopal seminary in Sewanee, Tennessee.  We will pray with her, and send her out with joy!
You can now give electronically to OLV through the Diocese of the Rio Grande new on-line giving vendor.  Just go to www.dioceserg.org/donate, choose OLV from the menu, and you are on your way!  The Diocese will cut a check each month to OLV for the donations received.
Some COVID prevention measures once we reopen to in person worship:
• Wearing of facemasks is mandatory
•Assigned seating by household groupings will facilitate contact tracing should the need arise
• Hand sanitizers and disinfectant spray available with each household seating group
• The vicar will assign a seat to you
• Limited movement around the sanctuary:  Communion will be brought to you at your seat
• Staggered entrance and exit of the building by household groupings allows for no pile up of people at the doors.