Got an old sewing machine?
We're collecting sewing machines for a new border outreach of our diocesan family.  Please bring your donation to church on Sunday.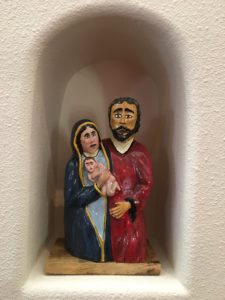 Annual Parish Meeting,Sunday,February 9,2020.  Special guest and preacher:  The Rev. Lee Curtis, Canon to the Ordinary of the Diocese of the Rio Grande.  Canon Curtis will preach at the morning worship, and address the congregation during the annual meeting / pot luck lunch following.  More info about Canon Curtis is here.
On the Fifth Sundays of the month in 2019  — we will have a Thomas Mass at our Sunday morning worship.  This beautiful service has been influenced by old liturgical traditions of the Church, as well as by the spirit of ecumenism.
Memories!   Devon Morris was baptized on January 8, 2017 by full immersion in the horse trough baptismal font. The font is donated by his grandfather to the Glory of God and in Loving Memory of Devon's brother, Dante Lee Morris.