+SAVE THE DATE!  The Annual OLV Riley Retreat Weekend (6pm Friday, Nov. 9; 8:30am-2:00pm Sat., Nov. 10; 10:00am-Church Service Sunday, Nov.10)
-Convention ( Oct. 31 to Nov. 2) and Consecration (Nov. 3)
       Congregational procession, donation of cookies, registration of  Delegate(s)
-Thank you, thank you to Pat for the spraying of our weeds, and to Marion for the striping of our parking lot! Angels really do exist!!
Thank you Mother Virginia Marie for representing OLV at the Women's March in Albuquerque!
On Sunday April 8th OLV celebrated three years of outreach!
On the Fifth Sundays of the month  — January, April, July, September and December 2018 — we will have a Thomas Mass at our Sunday morning worship.  This beautiful service has been influenced by old liturgical traditions of the Church, as well as by the spirit of ecumenism.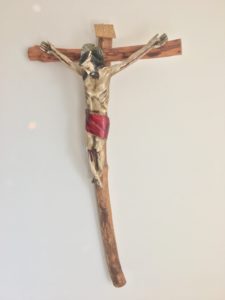 Memories!   Devon Morris was baptized on January 8, 2017 by full immersion in the horse trough baptismal font. The font is donated by his grandfather to the Glory of God and in Loving Memory of Devon's brother, Dante Lee Morris.