Coming Soon:  Parish-authored Lenten devotional! As part of our commitment to Journey the Way, becoming like trees planted by living water, we will develop out own devotional for Lent this year. Scriptures and guidelines now available — sign up for yours soon.  Devotions will be needed by 2.24.19.
Due to scheduling conflicts our annual congregational meeting will be the first weekend of February 2019.
Motorcycle Ministry.  The blessing of the bikers and bikes — upcoming!
On the Fifth Sundays of the month  — January, April, July, September and December 2018 — we will have a Thomas Mass at our Sunday morning worship.  This beautiful service has been influenced by old liturgical traditions of the Church, as well as by the spirit of ecumenism.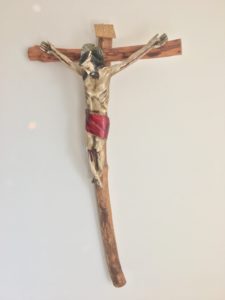 Memories!   Devon Morris was baptized on January 8, 2017 by full immersion in the horse trough baptismal font. The font is donated by his grandfather to the Glory of God and in Loving Memory of Devon's brother, Dante Lee Morris.