Upcoming . . .
• Saturday April 6 — opportunity for OLV to host the Food Bank.
• Tuesday April 16 — Mass of Collegiality (Chrism Mass), St. John's Cathedral, 10 AM.  All are invited.
• Good Friday April 19 service at 6 PM;  door open at 5 PM for self-directed Stations of the Cross.
• Saturday April 20 — Biker Blessing (time TBA)
• Easter Sunday April 21 — 10 AM Resurrection Service
• 2nd Sunday of Easter April 28 — Mother Virginia Marie presides and preaches
On the Fifth Sundays of the month in 2019  — we will have a Thomas Mass at our Sunday morning worship.  This beautiful service has been influenced by old liturgical traditions of the Church, as well as by the spirit of ecumenism.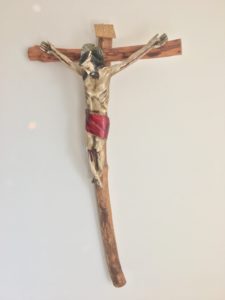 Memories!   Devon Morris was baptized on January 8, 2017 by full immersion in the horse trough baptismal font. The font is donated by his grandfather to the Glory of God and in Loving Memory of Devon's brother, Dante Lee Morris.